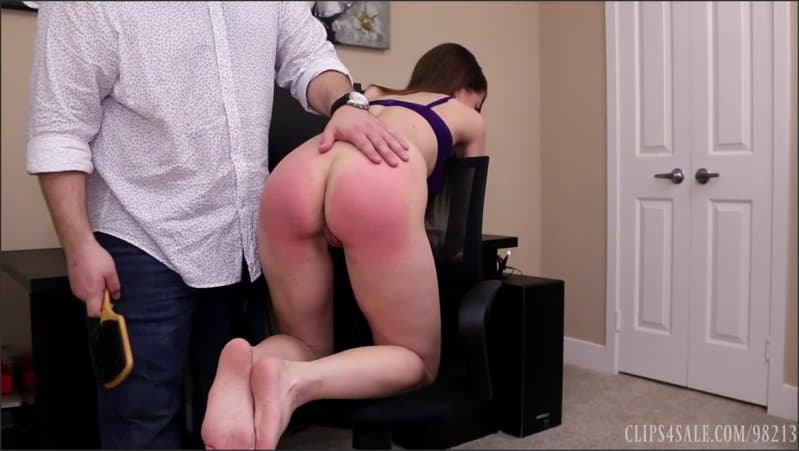 Chrissy's boss returns the next morning and tells her that her punishment is still not complete and that a nice hard spanking should really make sure she has learned her lesson! She begs him not to spank her, promising that she has learned and insisting that he not treat her like a , but he just orders her not to question his authority if she wants to keep her position! He orders her to strip off her skirt, blouse and pantyhose, which she does with extreme reluctance, and bend over the chair in preparation for her discipline. He starts by spanking her hard and fast with his hand as she squirms and whimpers, her bare bottom quickly turning bright red from the repetitive impact of his heavy hand. After several minutes he picks up her wooden hair brush off the desk and she starts to cry more as she knows what is coming next and he starts to spank her with the hard brush on her already seared buns. For her final ten strokes with the brush he orders her to bend over into an extremely humiliating position then count and thank him for each hard smack on her ass!
This is part two of the bondage clip Secretary Bound For Discipline HD WMV
*Chrissy is wearing very light makeup in the clip making it a great one for fans of the all natural/no makeup look!
(RUNTIME: 11 minutes & 22 seconds)


Category: SPANKING
Related Categories: HAIR BRUSH SPANKING , GROPING , STRIPPING , BDSM , HUMILIATION
Keywords: chrissy marie , nylons , pantyhose , stripping , nude , naked , embarassed , punishment , bare bottom , crying , humiliated , barefoot , brunette , female training , following orders
Format: MP4
Duration: 11 Min
Size: 567 Mb
Resolution: 1280×720
Download:
Download | Play it online