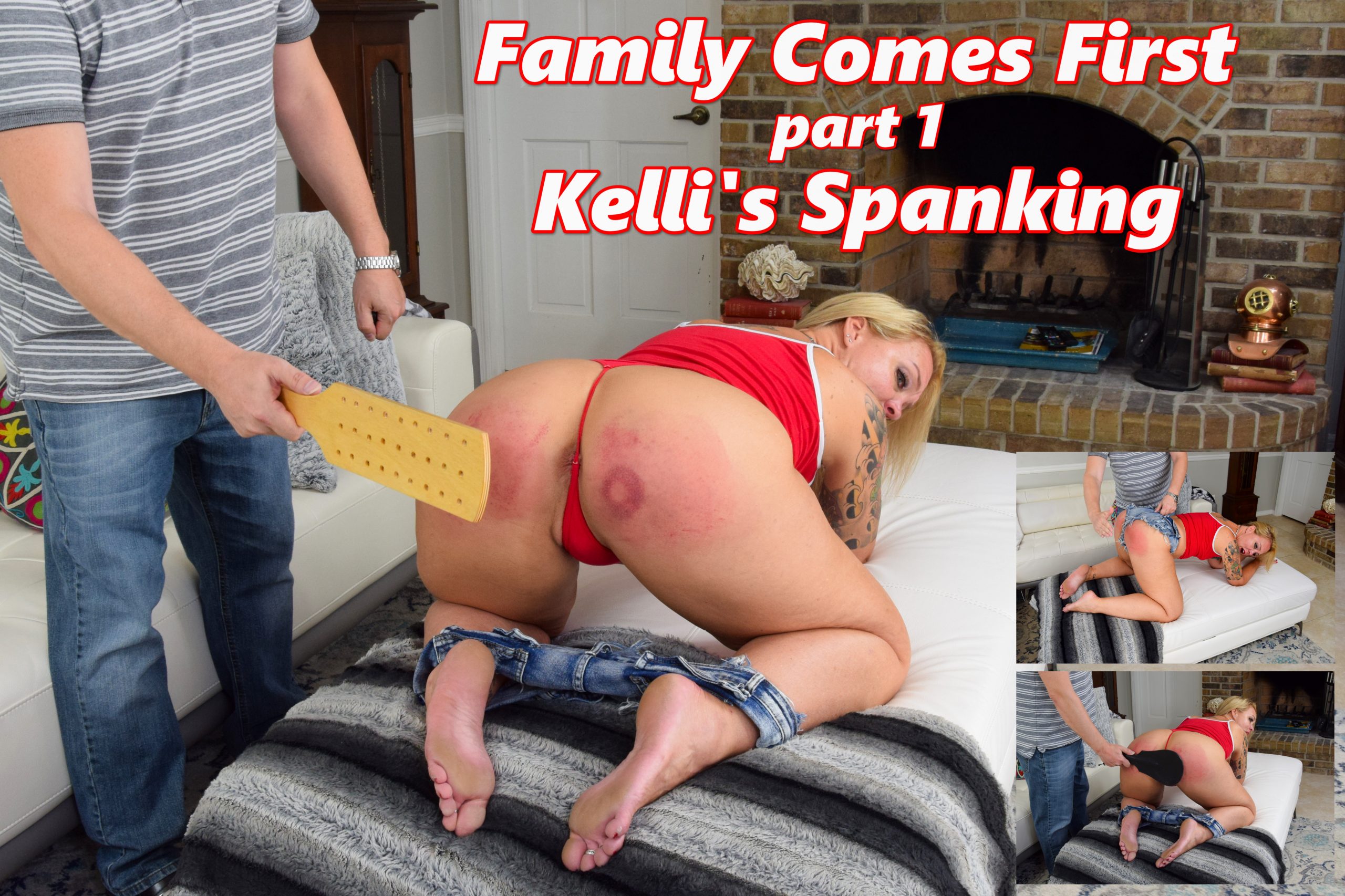 Kelli Curtis was just trying to be kind, but her good intentions were going to get her bottom tanned good, for the first time in a long time. You see, Kelli allowed her step-sister (Carissa Dumond) to live at the house she shares with her husband, however within the first few days of Carissa's arrival things started to go bad. Carissa had taken Kelli's husband's car without permission and she even had a group of men come to stay overnight in her room. Kelli's husband had not even thought about spanking his wife as of recent, but he became angry enough to position Kelli on all fours and spank her her beautiful round bottom!
Kelli and her husband had been in a domestic discipline relationship for several years, but as time went on they had strayed away from that lifestyle. What some people must remember though is that a husband spanking their wife is more than just a lifestyle, it's often what a woman needs to stay obedient, focused, and on task. Even more than that, a hard spanking on a round bottom can certainly inspire better judgement and decision making.
So when Kelli assumed the position in her tight jean shorts her husband laid into her with a stiff hand spanking! She hadn't felt that type of pain in a long time and her bottom quickly began to color up. Soon that unforgettable sound of the belt being pulled off would be heard by Kelli and her bottom would feel the sting of the strap! With her shorts pulled down there wasn't any protection, those cheeks were going to get sizzled. Of course a paddling would do the woman good too, so a big leather paddle and a wooden paddle with holes would certainly heat up Kelli's sore buns even more! One can expect that Kelli would try to stay out of trouble from there on out, then again we know that a wife needs a spanking every now and again, plus some women even crave the discipline that only a caring and stern husband can deliver. One might assume that it would only be a matter of time before Kelli was getting spanked again.


Category: SPANKING
Related Categories: STRAPPING, MILF, PADDLING, CORPORAL BDSM, SPANKING M/F.
Keywords: spanked on all fours, belt whipping, domestic discipline, paddled on all fours, paddle with holes, glowing red bottom, husband spanks wife, leather paddle swats, hot blonde spanked, first spanking video, wooden paddle swats, hot wife, kellie curtis.
Format: MP4
Duration: 11 Min
Size: 833 Mb
Resolution: 1920×1080
Download:
Download or WATCH ONLINE – 833.3 MB