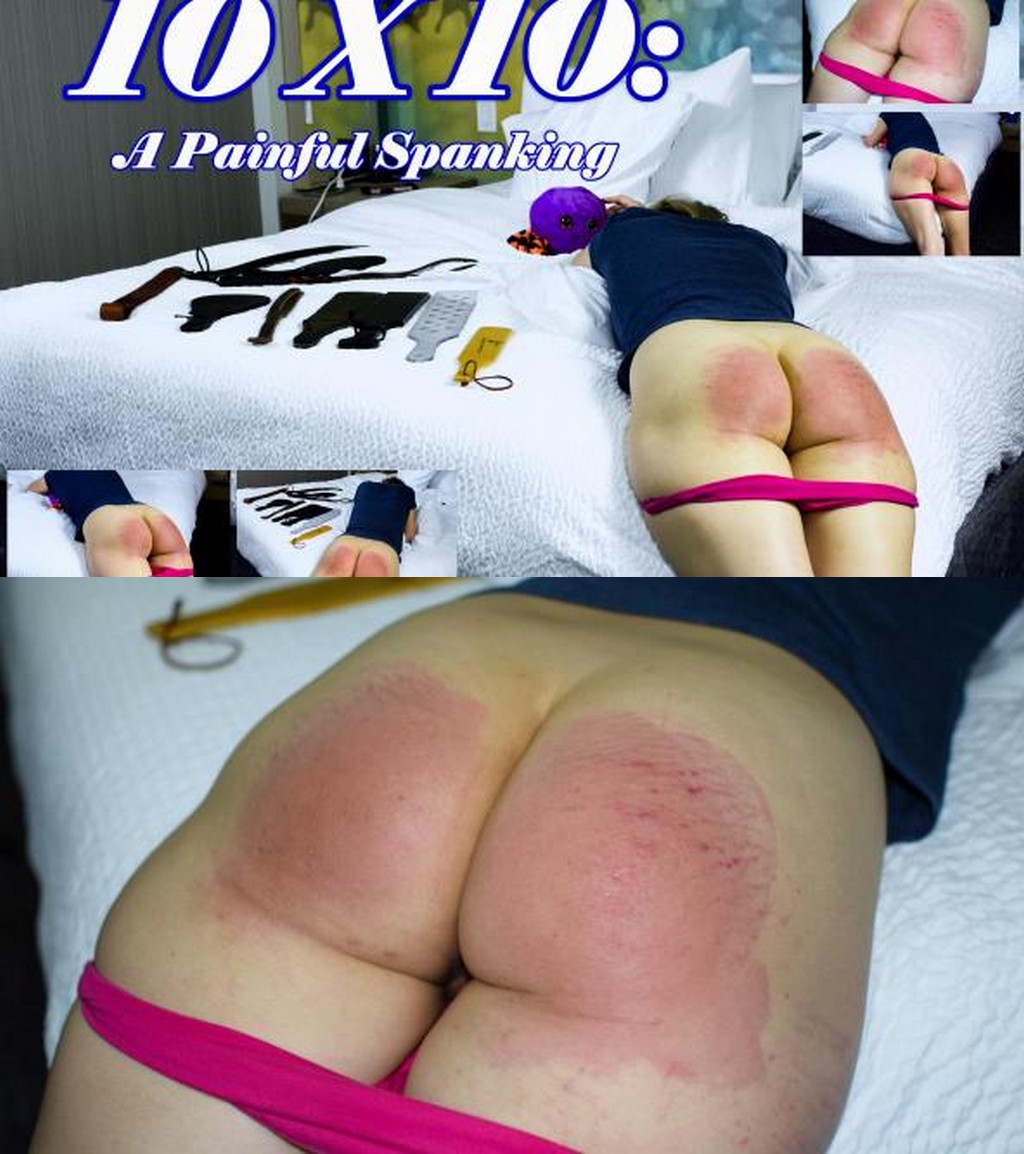 "10 X 10″: A Painful Spanking" is a straight forward and red hot spanking video that features the lovely Samantha Storm taking 10 licks each with 10 different implements! It's 100 swats/strokes total and her bottom gets fired right up, this is indeed a painful session that she's never going to forget!
The spanking starts off with the thick leather billet strap being firmly applied to the cute bottom of Samantha, and her beautiful buns are only covered by a very thin pair of panties. Next, a stiff leather paddle is used and followed by a stingy split tailed leather strap! A wooden paddle is then applied to further heat up Samantha's behind, followed by a thin leather strap.
Things intensify for the next five implements and the final 50 licks, and a bigger leather paddle come out and blasts Samantha's bare bottom as her panties have now been pulled down, exposing her naked cheeks. Next, a painful leather tawse is used and Samantha really begins to struggle, but who could blame her? The tawse is followed up by swats with a heavy plastic paddle, swats are never easy and that proves true in this situation. The last two implements are certainly the worst, truly Samantha has been through a lot and to have to take 10 each with the rubber strap with holes and the lexan paddle with holes is most difficult! This session truly sizzled Samantha's bare bottom, but it inspired her to keep up with her regular maintenance punishments.
Also, stay tuned for a bonus scene where Samantha takes an excellent switching with a hemp stick!!!


Category: SPANKING
Related Categories: PADDLING, CORPORAL BDSM, STRAPPING, SPANKING M/F, 18 & 19 YRS OLD.
Keywords: the painful lexan paddle, the switch, the tawse, the lexan paddle w/holes, the strappings hurt, girls hate swats, the wooden paddle, the rubber strap, swollen red cheeks, hot bare bottom, true painful spankings, burning leather licks, samantha storm, painful lessons, bonus scene.
Date Added: 05/08/18
File Size: 1153.49 MB
File Type: MP4
Resolution: 1920×1080
Movie Length: 17:33
Download:
Download or WATCH ONLINE – 1.1 GB