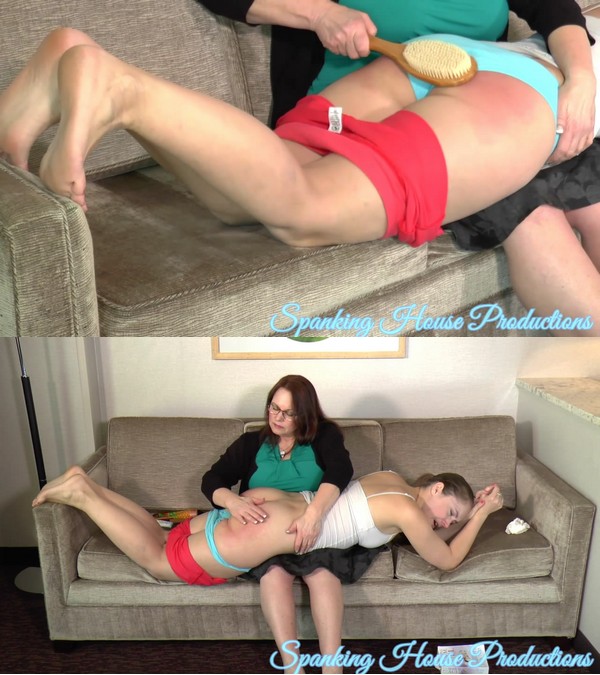 Rachel nervously decides to talk to Step-Mom Elizabeth, bathbrush in hand, to confess that she's not been doing well at school or in her studies. She also concedes that she just hasn't been able to focus properly and has been spending too much time with her friends. The reason for the bathbrush in hand is because she is about to request a bathbrush spanking from Step-Mom. Rachel explains that Step-Mom Elizabeth always had a way of getting her back on track during her growing up years, and, since she dreaded the bathbrush the most when it came to discipline, she felt it would be the best tool to get her back on track now.
Elizabeth takes her remorseful step-daughter across her lap to give her a solid spanking to get her back on course and focused on her studies. A few swats with Step-Mom's bare hand gets a reaction from Rachel, but nothing in comparison to how she's about to respond to the bathbrush!
Step-Mom scolds, encourages and talks to her step-daughter in a maternal, caring manner throughout the spanking. While she appreciates that Rachel came to her for discipline, Elizabeth also knows that to make the changes necessary, the bathbrush spanking has to hurt. Rachel howls in pain, has tears streaming down her face and snot dripping from her nose. Her bottom is on fire by the time Step-Mom's well placed bathbrush swats are complete.
Once the spanking is over, Elizabeth rubs lotion over her step-daughter's sore, red bottom to help ease some of the red hot pain. Once the lotion soaks in and Rachel's sobbing has subsided, Step-Mom has her sit next to her, giving her step-daughter a hug and further words of consolation and comfort.


Category: SPANKING
Related Categories: SPANKING F/F , OTK SPANKING , CRYING
Keywords: rachel adams , real tears , sobbing , step-mother step-daughter , summer dress , bathbrush , bare feet , running nose , snot , domestic discipline , miss elizabeth
Format: MP4
Duration: 15 Min
Size: 649 Mb
Resolution: 1280×720
Download:
Download | Play it online