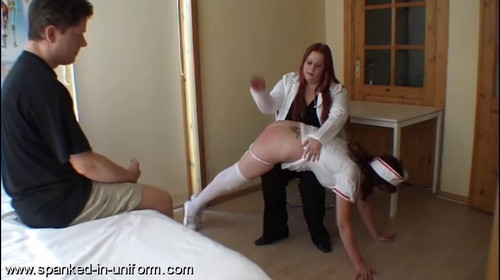 Description: St. Elizabeth private hospital is a hospital where the nurses and trainees know very well what a sore well spanked bottom feels like. Every doctor will not hesitate turning a naughty nurse over his or her knee if she doesn't do her work properly or is naughty And naughty they are! The nurses have to wear a white and red sexy uniform which is short so their bottoms can bared quickly when correction is required. Below are all the episodes from St. Elizabeth Private hospital.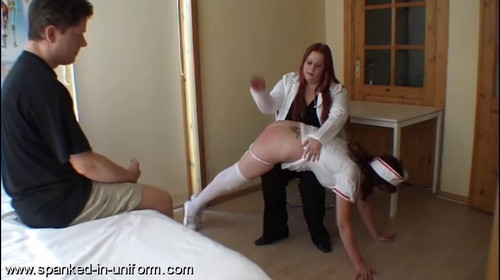 Description: Nurse Carla is one of our older nurses but she still needs regular hard spankings. She kept a patient waiting for his checkup while she went out to have a cigarette. The patient informed Doctor Jane and She gave Carla a sound spanking while the patient watched. Then the patient was allowed to lay her over the bed and he gave her another hard spanking.
Format: MP4
Duration: 10 Min
Size: 116 Mb
Resolution: 1280×720
Download:
Download | Play it online
Nurses Donna and Julie decided to bring a bottle of whiskey into the hospital and they ended up quite tipsy. A patient noticed that and told Doctor Mike who wasted no time and bent both of them over the bed and spanked them both long and hard.
Format: MP4
Duration: 14 Min
Size: 168 Mb
Resolution: 1280×720
Download:
Download | Play it online
Every week the nurses get a weekly evaluation at St. Elizabeth and this week nurses Jolie and Sara were in real trouble. For 3 different reasons they both got a leather paddling, a birching and a jolly good OTK slippering from Doctor Mike followed by some time in the corner to reflect on their poor performances.
Format: MP4
Duration: 19 Min
Size: 225 Mb
Resolution: 1280×720
Download:
Download | Play it online
Nurses Emma and Lottie were told to do the inventory of the hospital pharmacy. Lottie told Emma she had a headache so Emma grabbed some headache pills without paying for them. They got caught and they both got soundly spanked and birched by Doctor Johnson.
Format: MP4
Duration: 22 Min
Size: 252 Mb
Resolution: 900×504
Download:
Download | Play it online
Not long after Carla's spanking Dr. Johnson was informed that Carla was caught smoking inside the hospital this time. She was summoned to his office and she received a severe hand spanking, a hard paddling and a good dose of the cane. Afterwards she had to stand in the corridor, hands on her head, her sore red bottom on show for all the staff and patients.
Format: MP4
Duration: 17 Min
Size: 200 Mb
Resolution: 900×504
Download:
Download – 200.0 MB