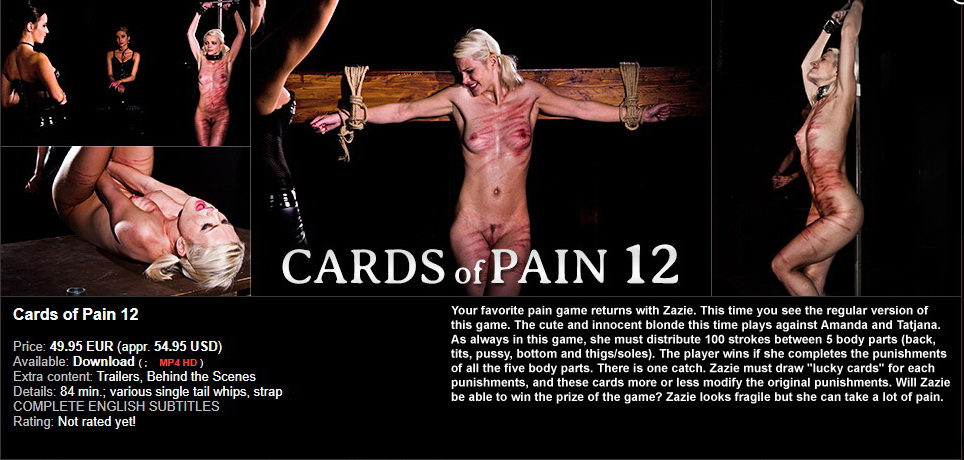 Zazie is back at Elite Pain for one last game and it's a solo effort at Cards of Pain.
The game is simple. For those who are unfamiliar the player divides 100 strokes between the soles/thighs, pussy, ass, tits and back. They then draw 5 "lucky" cards that modify the punishment. Sometimes they help but they can also hinder the player.
Zazie is a really cute blonde girl with a loveable personality. She has lovely boobs and a nice tight stomach and bum. She also comes across as a genuinely lovely girl. Her reactions in her previous appearances in the duo movies are endearing. Especially when she hugs a hurting Darcia in Save Your Friend which only made things worse.
She goes for 20 on the thighs, 10 on the pussy, 15 on the tits, 10 on the ass and 45 on the back. There is a moment in the interview where she reveals she went for 10 on the ass because she fears Tatjana cheating and hitting her pussy instead. Tatjana is enraged by this and it sets the tone for what's in store.
Round 1
Round 1 is 20 on the thighs while tip toeing. If she drops down she must restart.
The dominas are Tatjana and Amanda and they exploit the rules to the fullest extent. Normally we see the dominas want to get on with the torture and push the sub. Not here. It's far crueller to draw it out and make it slow and deliberate.
You can see Zazie struggles here. Her legs start to shake like hell. The tears don't take long to start flowing. In the second half of the round it's clear how much the whipping and tip toeing is hurting her. Sweat starts to pour down her naked body. At first I thought we were going to see salt water in this game but it is in fact sweat from this round.
Then Zazie starts to beg for the whips to come faster. And both the dominas are in full fuck with the player mode. They're going slow and mocking Zazie for wanting the strokes quicker. Amanda even announces that Zazies heels touched the ground. A back and forth ensues and finally Amanda admits she was just joking. We're going to see more of this as the game goes on.
Zazie does make it. In the post round interview she says that her legs are really shaking. She also feels the hostility from both doms. Amanda may still be harbouring a grudge after Zazie whipped her feet in a switch round. And Tatjana is raging after being called a cheat.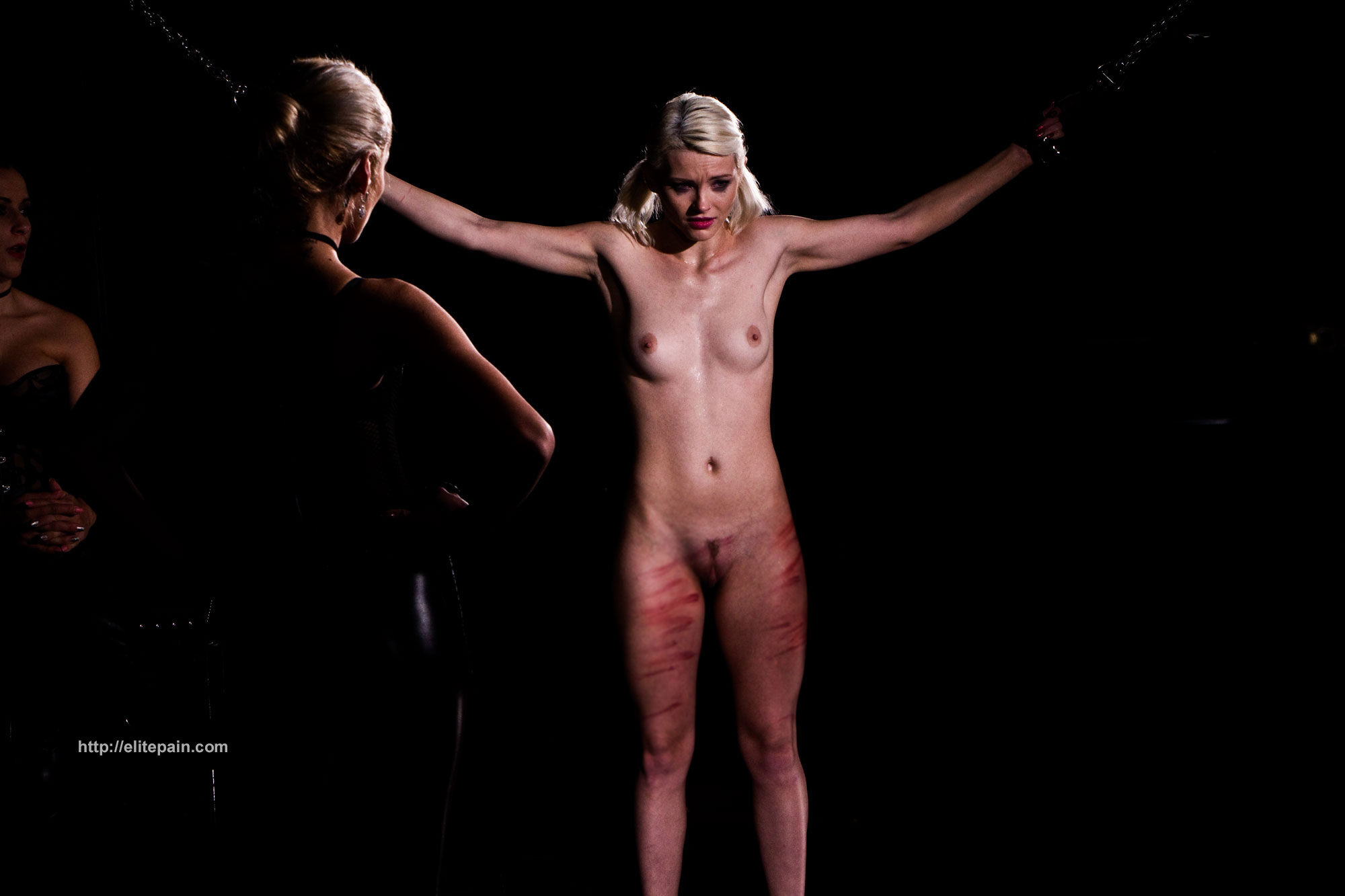 Round 2
25 strokes on the boobs. Zazie draws the move strokes card on the pussy round and she adds the 10 onto the boobs. She also draws a stop card. So if it all gets too much she can stop the round and add the strokes to a later round. No single tail pussy whipping from Tatjana this time guys.
Zazie is still in trouble though. Amanda and Tatjana make the most of this round and target the nipples as much as possible. So as you can imagine Zazie starts crying a lot and she starts letting out little yelps after the big screams. Again and again the whip bites Zazies tender breasts and then one opens up a small cut on the left nipple. As it turns out this is the first time she has been opened up at EP.
Zazie begs the doms to hit lighter. But Tatjana and Amanda are merciless and out to break Zazie. So they target the nipples as much as possible as hard as possible. Zazie is still asking for the pace to speed up which makes the dominas slow down even more. She is also mocked about up coming rounds and told unequivocally that there will be cheating.
At the end Amanda taunts Zazie that next time both nipples will be bleeding and Zazie responds that there will be no next time. This is something she repeats in the interview. Something about this round broke her. She did seem to be reluctant about coming back anyway due to the recovery time needed after games. But I think the verbal taunting got to her here and the continued nipple strikes. It's something which to my recollection she hasn't been the recipient of too much. But anyway onto round 3 we go.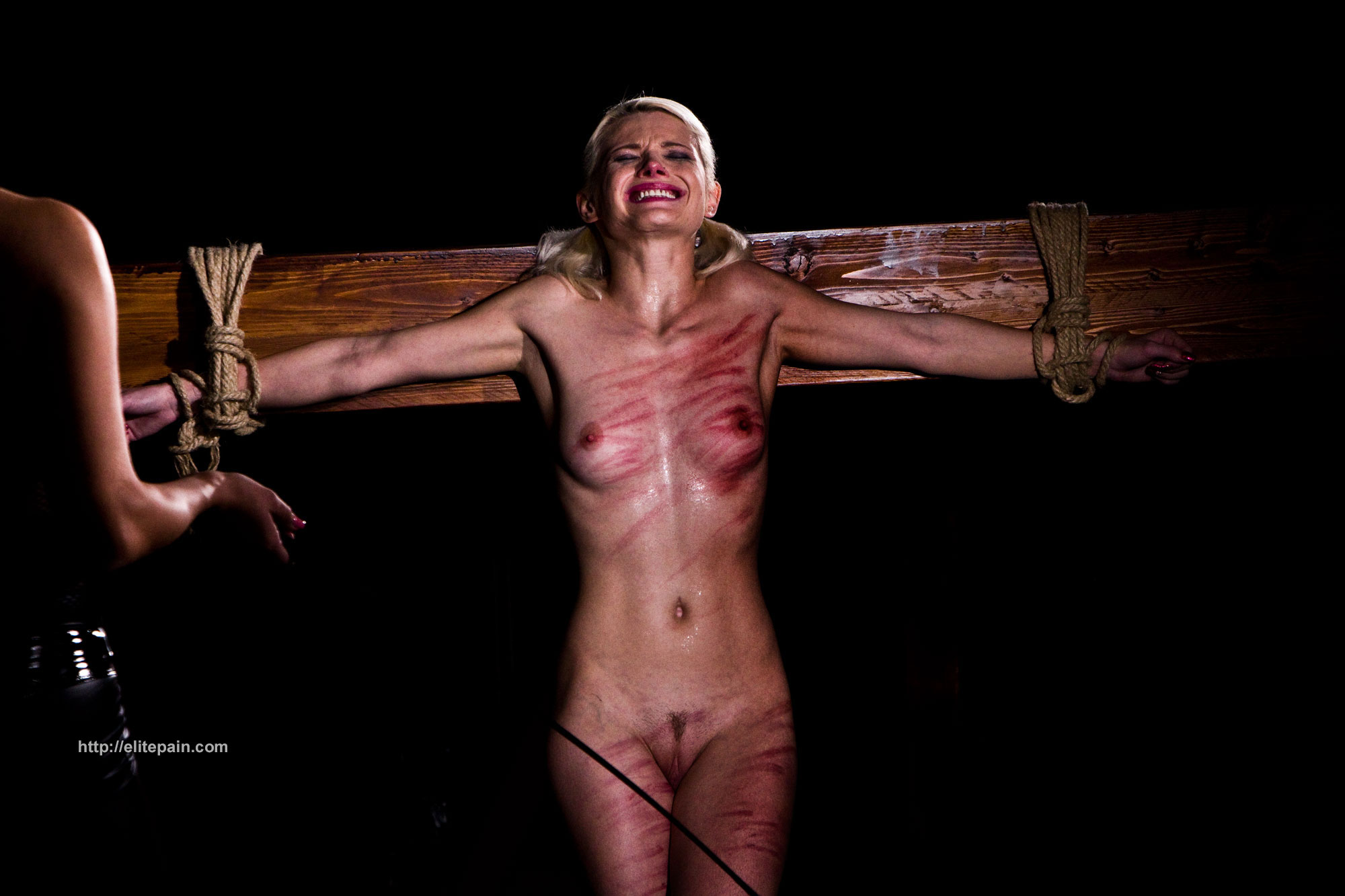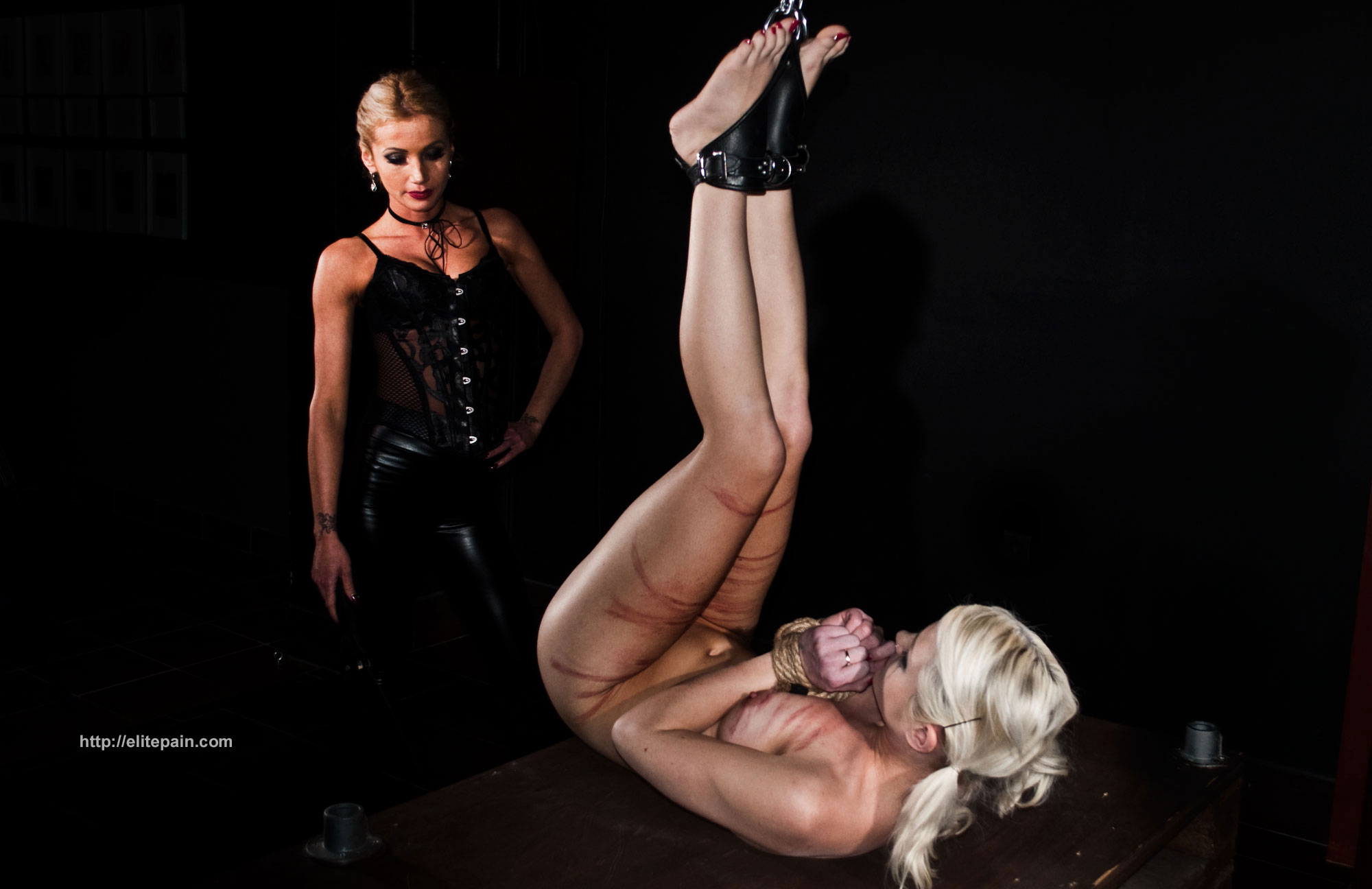 Round 3
We see 5 on the bum after Zazie draws a halver.
There really isn't much to this round to be honest. But stroke 5 is where it all happens. Amanda says she hopes at least one strike goes straight on the pussy. Tatjana states that it is forbidden while winking at Amanda. Zazie states that she trusts Tatjana. 😆 Really Zazie? Yeah well the strap finds nothing but pussy and Zazie lets out the most prolonged scream yet. Tatjana put everything into that one for sure.
But unsurprisingly Zazie makes it and she is definitely shaken by the blatant cheating. The host being a comedic genius says they'll check the tapes but he doubts they'll see signs of foul play. 😀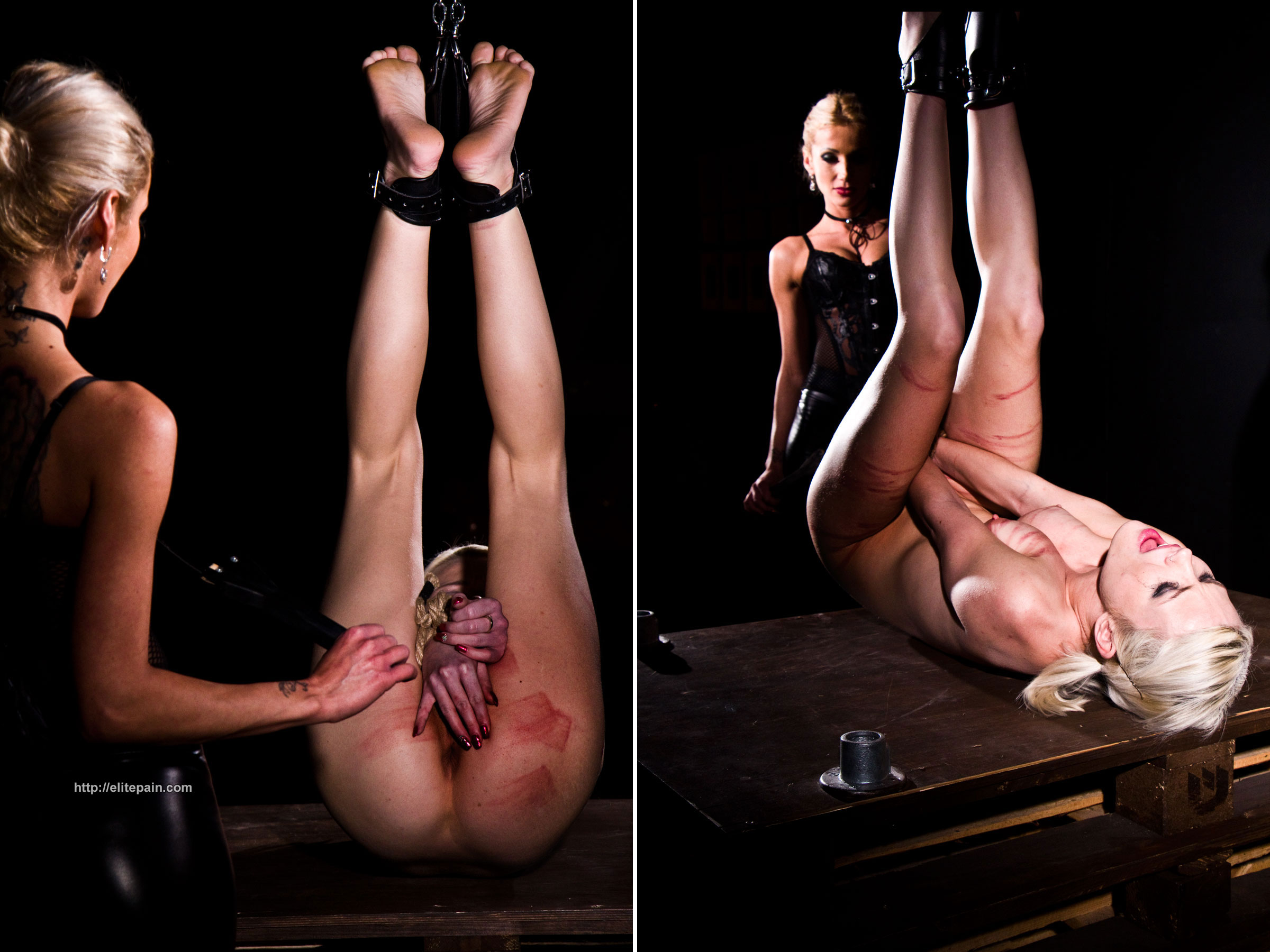 Round 4
45 strokes to the belly. Zazie draws a doms choice card and brings in Amanda to choose. Now I honestly thought we would see a feet or pussy round from this. Amanda had her feet whipped by Zazie and obviously the pussy is what Zazie is most scared of. But no it's the belly.
This round turns into a fully body round though. And it is really brutal. Zazie is getting very lippy with the doms and she is really struggling now. The tiredness caused by the first round and verbal berating are taking there toll. There is no let up and Zazie continues to take strokes to the nipple.
Until finally Tatjana has had enough of the back talking. Out comes the knotted single tail. And Zazie is made to seriously regret what the back talking. This round just went up a notch and then some. This becomes a real struggle and mental battle.
But my synopsis ends here. Does Zazie finish her career at Elite Pain with a victory or a defeat? I'm going to let you find out for yourself.
I think those that like there movies with a good dose of back whipping will be disappointed by this video since for the second release in a row there isn't any. Pussy whipping fans will also feel a little cold I reckon. There is one really good shot but just one.
The main points of intrigue are definitely the tip toe round and seeing Zazie struggle there. And the multiple shots to the nipple. You also see Zazie struggle mentally with being verbally berated.
I will say that Zazie does turn in a great performance. She is wonderful to watch as a sub and if this is her end then it worthy of song. Amanda and Tatjana are both on top of their games here as well.
I will say this though. I liked and enjoyed this movie but I didn't love iot. That said the previous two releases of COP RLD Ariel and Treasure Hunt Darcia were exceptional. But yeah this one didn't hit the spot like they did.
I can only give it a A
Format: MP4
Duration: 85 Min
Size: 1395 Mb
Resolution: 1280×720
Download:
Download | Play it online