She stands naked as directed, hands folded behind her back. Ready for inspection. She know she's going to continue her training as a sub. She's getting used to the idea that she will be trained and handled like object or a pet…depending on my mood. And she's ready. She knows there will some pain and discomfort involved. I sit and have her crawl to me. I put a steel collar and cuffs on her. The metal is cold and heavy and sends a message to her brain. So do the nipple clamps I attach. She endures the bite as they sink into her perky and sensitive nipples. Then I have her walk for me…in her high heels, nipple clamp chains swinging, with her head held high. I instruct her to get down on all fours, head down, ass to me. I tell her to back up till she's touching my legs with her exposed parts. I give her a two handed spanking. Then I tell her to follow me…crawling of course…to the bedroom. She kneels between my legs as I talk to her and tell her what to expect. I have her get up on the bed…Downward facing Slut Pose. I show her the three canes I plan to use. I let her choose which one first. I tease her…touching her with the tip…gently poking her slit. Then stroking her skin before giving her little taps. Those little taps get stronger…and pretty pink stripes begin to appear. I use all three on her…and she takes it well. Now back down on her knees as I cuff her hands behind her back. I have her lie on her back, legs spread open as I stand over her. She meets my gaze openly…bold, yet submissive. Comfortable in her submission. I reach between her legs and touch her pussy…only to give it a little spanking. As I smack it, her knees move instinctively to close and protect her pussy, but she keeps them spread wide. Of course it hurts. But the little quick slaps and the pressure from the rubs send conflicting messages to the sub's brain. Pain/pleasure/pain/pleasure until the two become as one…. I stand over her and look into her eyes. Her submission is a gift, and one that I continue to explore. The journey continues… And now Chrissy finds herself in an interesting position…Table tied, legs spread and arms stretched back. As part of her training she needs to continually be tested. And I enjoy pushing her boundaries and testing her limits. She waits patiently and perhaps a bit apprehensively. I get her attention when I attach clover clamps to her nipples. Her eyes widen as I tie the chain overhead, pulling it so her nipples are painfully stretched. I show her the flogger…I slowly drape the soft leather strands all over her. The cool supple leather has a sensual feel…but the anticipation grows. She knows the sensation will change. It starts with me swinging the flogger fairly softly so the strands brush over her exposed pussy. I increase the intensity until I am delivering hard impactful strikes. She takes it without any complaint. Good girl! I use my hand to softly stroke her. The combination of hard and soft is what works magic on the brain. The sensations start to become combined. Pain and pleasure, an intoxicating blend of endorphin releasing feelings. Next I decide to experiment with the cane. I hold it down on her vagina, aligned with her slit. One hand holding it down, and the other lifting the tip so it bows back. Then I release it SNAP!! down on her pussy. I like this new thing I've discovered… (new for me anyway). Chrissy responds well as I continue to sensually her pussy. I also use the cane more 'conventionally'…little stings everywhere. Chrissy has done so well in this lesson. I let her know, and she looks pleased and satisfied. But there's another lesson coming… Chrissy is in a new position…standing facing the wall…hands secured overhead. She waits expectantly. At this point, she has a pretty good idea what's in store for her. Painful stuff. She's relaxed and resigned. After all, it's part of her training. Subjecting herself to her Dom's will. Ready to receive physical punishment to please him. And in the process, she finds satisfaction…knowing she's pleasing him by being a good girl. There are some nice slo-mo sequences to enjoy as the fun begins. Spanking first…to 'warm' her up. Then the quirt…a nasty short whip that I use to snap her pussy as well as her ass. I place a stiff cane in the crack of her ass and have her hold it there…until I use it on her. The flogger follows, and by now her ass is glowing pink and red. Then the leather paddles. One has metal studs on one side. I make her count the strokes. She knows that if she loses track, we start all over. After the leather paddles, I use the cane again…after all you can't have too much cane now…can you?? I finish with a short rubber tube thing that really hurts…lol…like the rest didn't! I take her down. Her ass is going to bear marks for a while! We embrace. I'm pleased with her, and she's happy to have served me so well. A solid training day. She's on her way…but she will no doubt need more training… 1280×720 mp4 format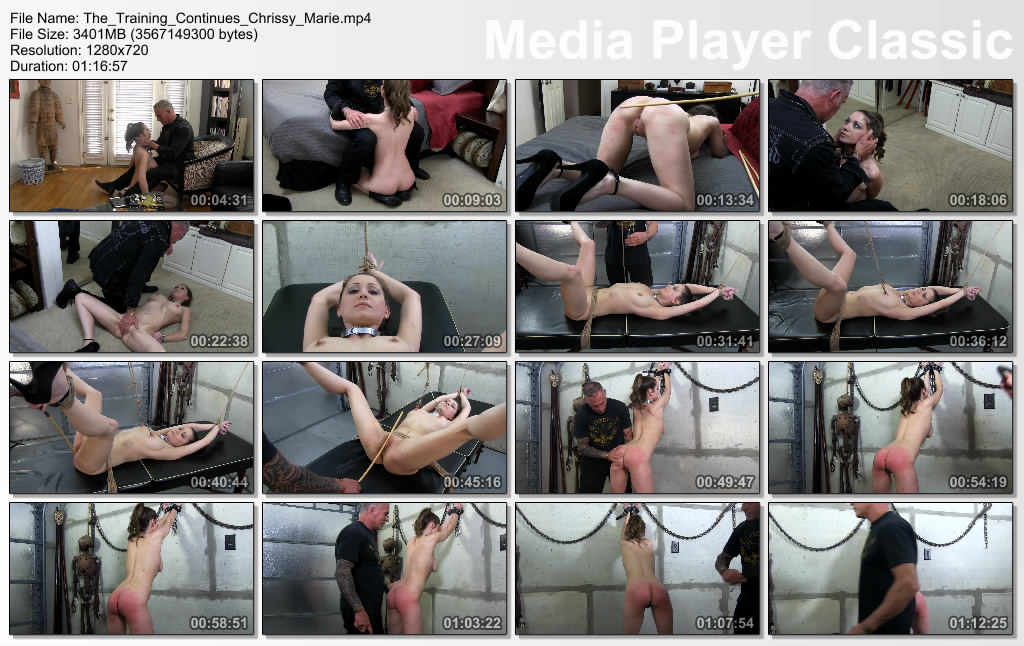 Category: BONDAGE
Related Categories: BDSM, SUBMISSIVE / SLAVE TRAINING, FLOGGING, CANING, CORPORAL BDSM.
Keywords: chrissy-marie, shaved pussy, nipple clamps, crawling, pussy flogging, slow motion, spanking, whipping.
Format: MP4
Duration: 77 Min
Size: 3401 Mb
Resolution: 1920×1080
Download:
Download or WATCH ONLINE – 3.3 GB